Does Your Deck Need to Be Refinished?
Posted by WOCA WOODCARE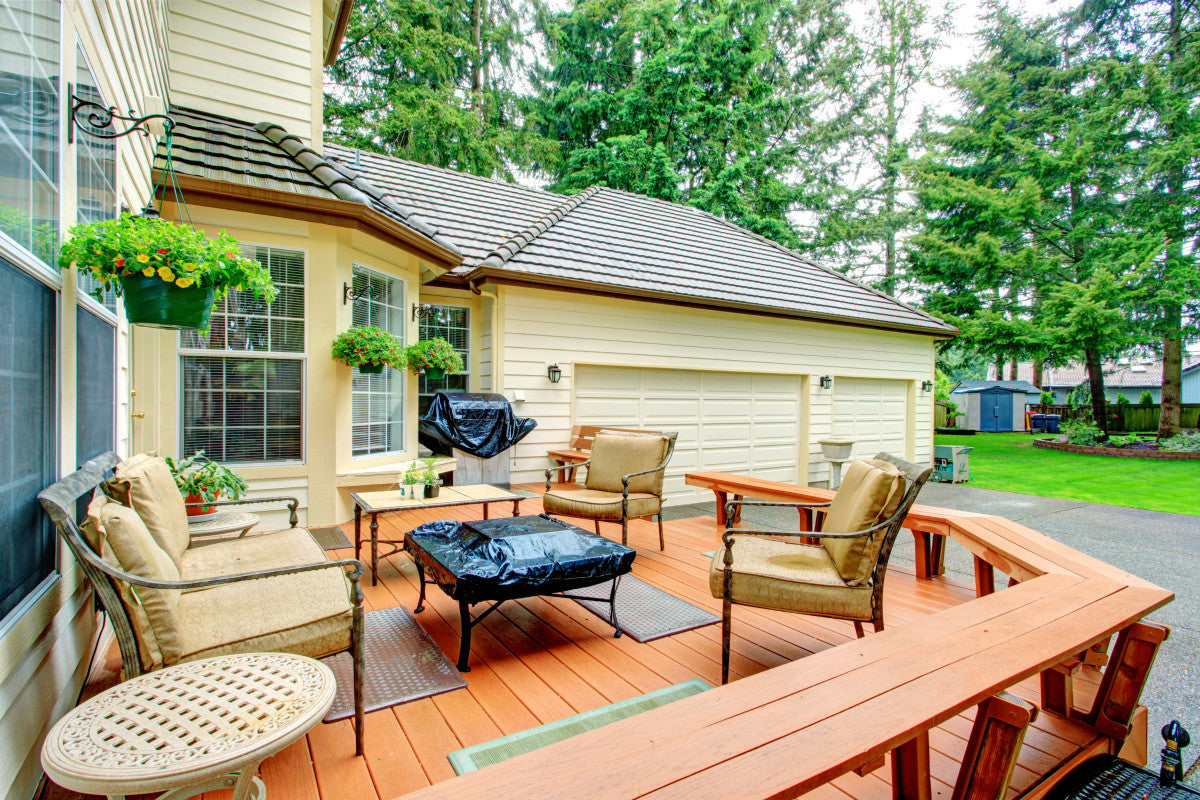 A backyard space for entertaining is something many homeowners consider to be a top priority, and a wood deck is a perfect way to expand your space. However, wood decks will inevitably need at least a little maintenance to keep them functional and beautiful.
Preserving your outdoor wood deck is necessary if you want it to last. Regular cleaning and finishing will keep your wood protected and looking beautiful for many years to come. But how do you know if your deck needs refinishing or not? Is it based on a certain amount of time? Are there things to look for?
We're sharing what to look for on your wood deck, the signs it needs refinishing, and the proper steps to take when it's time.
Deck cleaning.
First things first, you have to keep a wooden deck clean. This will help you remove any surface dirt and build-up and show you if the wood underneath the debris is still in good shape.
However, we want to approach cleaning a wood deck with caution. We do not recommend using a power washer but instead suggest using a scrubbing sponge along with an outdoor wood cleaner to lift any dirt, stains, or mold. Scrubbing along the grain can help protect softwood like pine. 
There may be a need for a deep cleaner, which tackles oil and dirt deep inside of the wood and can help with things like mold and algae. 
Remove mold, algae, and green growth.
Despite producing oxygen and providing tons of other benefits for the environment, algae and mold can be harmful to any home exterior surface it grows on. But just because you have algae or mold build-up on your deck, it doesn't mean it's time to refinish it.
Algae doesn't have to be a persistent headache or damaging to your deck! With the right products, you can remove the build-up — without intensive extra time and effort. Use our exterior cleaner to remove the algae and mold and prevent regrowth from happening. Here's how to use it:
Soak the wood with plenty of water. Use a garden hose if possible.

Apply our deep cleaner in an even layer and leave it to be absorbed for 3-5 minutes.

Use a stiff or nylon brush, scrubbing the wood "wet-on-wet" to remove dirt.

Hose down with plenty of water.

Leave the wood to dry – approx. 24 hours.
Tip: If your surfaces need regular cleaning throughout the summer, our Exterior Deck Cleaner is safe to use around plants (when diluted)! If your deck needs a little more TLC, check out WOCA deep cleaner, which helps to remove oil and dirt. Remember, just because your deck is dirty doesn't mean you have to refinish it!
Use protective wood oil.
After your deep clean, assess the wood surface of your deck. If the wood looks dry and old but is otherwise fine, you can simply use high-quality wood oil to create a protective layer on your deck. We repeat: You do not have to refinish a deck just because it looks faded! (If you're noticing other problems with your deck, keep reading.)
After a deep clean, you can use WOCA Exterior Oil, a water- and plant-based oil that's not only safe for you and your family, but is safe for the environment. 
WOCA Exterior Oil is perfect for all wood species, including cedar, redwood, ash, oak, and more. This protective wood oil:
Absorbs deep into the wood

Hardens and strengthens from the inside out

Offers UV protection

Is tough against other harsh elements

Provides color and protection in just one step
Pro-tip: Not sure which color to choose? Order WOCA Exterior Oil Testers to try them out ahead of time!
Time to refinish?
After waiting about 24 hours for your cleaned deck to completely dry, if you notice any rough wood fibers anywhere (like splinters, cracks, or rough patches), that might be a sign you need to refinish. If it's just a small area, though, simply sand down the wood with 120 grit sandpaper. You may need to do the surrounding area, though, so that you can easily apply oil/stain to the area later.
You should also check for gaps in the wood that indicate boards have warped or broken. You can also assess the strength of your boards: Are boards coming up, or do they have nails/screws poking out? If so, it might be time to replace some boards, sand down the entire surface, and reseal and stain your entire deck with high-quality wood oil.
Turn to WOCA for all outdoor wood care.
Getting your deck back in tip-top shape doesn't have to be as much of a headache as you may anticipate! You also don't have to refinish it every season. With WOCA's safe and environmentally friendly products, you can maintain your outdoor entertainment area without a ton of work — year-round.
Explore our outdoor collection now, so you can make sure your wood deck is clean, protected and welcoming to guests.
Title for image