Fall Decorating Trends
Posted by WOCA WOODCARE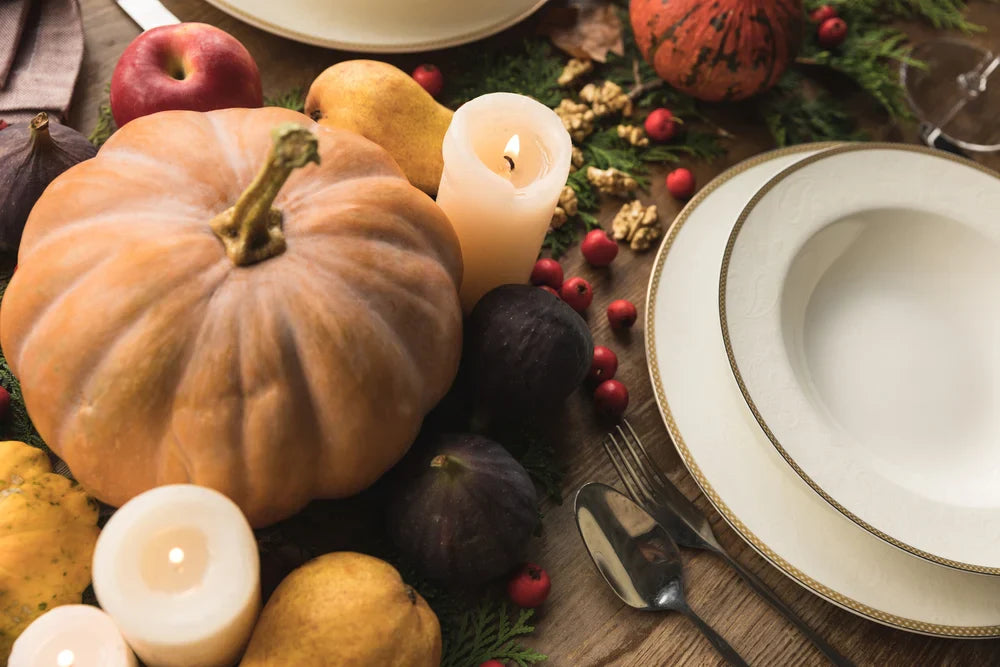 Classic jack o'lanterns on the front porch, plaid colored blankets thrown across sofas, and beautiful leaf wreaths on the front door. These are just a few things that come to mind when you picture your home decorated for fall. However, we know you are looking for new and unique ways to spruce up your home that complement your existing interiors, whether that's wood floors, wood butcher block counters, or wood furniture.
That's why we're sharing some latest top fall decorating trends.  Read on to see what's in style right now and what could fit into your style preference.
Fall Color Palettes
When it comes to fall decor, color is crucial. Here are a few color trends popping up this year:
Earthy tones: Neutrals are never out of style. Think of adding colors like green, brown, and ivory to your home this fall.
Terracotta: If you are looking for a more traditional feel, terracotta tones such as red, orange, and brown will bring in that cozy feeling you may be looking for. Staining your wood floors is a great way to create a fall ambiance in your space — as well as protect your floors against changing seasons.
Saturated: Make a bold statement with pops of rich and saturated colors like blue or yellow.
Fall Textures
Mixing patterns, textures, and fabrics is right in style this year. Let your creative juices flow as you pair a wide variety of textures together.
Velvet: It's timeless and popular to add velvet pillows, throws, or even a velvet chair to your home decor.
Tarnish: The distressed and worn look is in right now, whether it's on furniture or other decorations around your home.
Wicker: Bring in wicker decor to add neutral tones that bring visual interest. 
High-pile rugs: Add dimension to your floors (and protect them) with a neutral or bold high-pile rug. This can also help keep your home warm as the weather cools.
Fall Decor
There are so many choices when it comes to decor to add to your home, but here are a few popular fall decor items.
Macrame: This bohemian touch can bring in the natural looks to your home. Think wall hangings or plant holders to extend the cozy vibes of this season.
Chunky knit blankets: There's nothing better than a warm cozy knit blanket. Add a pop of color to your living area.
Natural features: Succulents, leaves, dried flowers, and other houseplants bring the outdoors inside. Plants with more autumnal colors, such as yellows, oranges, and reds, are also a great way to bring the season inside.
Fall Prep for Wood Surfaces
While it's great to know what you can do to match the latest trends, we want to share how you can prep your wood floors, so the color is full and vibrant, just in time for the changing seasons — and holidays.
Regular cleaning and maintenance are vital to keeping your floors looking beautiful and strong for a lifetime. First and foremost, the quality of the products you use in your home is critical, as the people you love most will be interacting with the floors every day. All of WOCA'S products are environmentally friendly and safe for the whole family.
Wood Maintenance
Using WOCA Oil Refreshing Soap and Maintenance Oil can help increase the longevity of your hardwood floors, as they seep deep into the wood and strengthen the grain from the inside out.
Wood Cleaning
Cleaning your floors, butcher blocks, and wood furniture does not have to involve blood, sweat, and tears. Effortlessly clean your floors with WOCA Natural Soap and Natural Soap Spray in no time.
All of our products are made with low VOCs, which means that you can apply the oils to your floor without the long-term effects on your health. WOCA products are plant-based and safe to use and can help you get your home's floors and other wood surfaces ready for colder, wetter months ahead.
Title for image