PRODUCT INFORMATION
ADDITIONAL INFO
VIDEO
APPLICATION INSTRUCTIONS
COVERAGE
AFTER CARE
DOWNLOAD INSTRUCTIONS
TECHNICAL DATA
PRODUCT INFORMATION
WOCA's Premium Penetrating Oil, Diamond Oil Active
Extremely durable wood finish
Plant based
Resistant to liquids such as water, coffee, tea and red wine
Gives the wood a beautiful, breathable surface
Approved for indoor use
Low VOC
Isocyanate free
Low odor
Can be used on all wood species, including Exotic woods.

9 popular colors available.
Diamond Oil Active: Available in 9 colors.  8.5 oz or 2.5 liter can

If you want to achieve the signature Scandinavian wood look, purchase one of our Signature Look bundles:
ADDITIONAL INFO
WOCA Diamond Oil Active is a single-component, extremely durable penetrating oil. Made from plant based materials, providing a low odor, safe wood finishing product that is free of isocyanates.
Diamond Oil Active's unique hyper cross-linking technology will give your wood floor a durable, natural feeling, non-slip surface; leaving floors with a water-resistant and easy to clean finish. For all wood species, including Exotics.
APPLICATION INSTRUCTIONS
How to oil with WOCA Diamond Oil Active
The wood must be freshly-sanded to grit 120-150 for the final sanding. Product, room and floor temperature must be between 59°-86° F. Ensure good ventilation when applying the oil and when it is drying.
Prep the wood surface with WOCA Intensive Wood Cleaner. This is not optional. Leave the floor to dry for at least 8 hours before applying the oil.
Thoroughly shake the container of Diamond Oil Active, both before and during use. Containers with different batch numbers should be mixed to avoid color mismatch. Apply the oil using the Applicator Pad or a paint roller (1/4" nap) in an even coat.
Leave the oil to penetrate for 10-15 min. If the oil soaks quickly into the wood, apply more oil.
Polish the oil into the wood until the floor appears saturated. Use a buffing machine with a white or beige pad.
Remove excess oil with dry, lint-free cotton cloths or pads until the surface no longer appears wet.
For a second coat, apply 3 ounces of Diamond Oil Active per 110 square foot within 6-12 hours of the first coat. The oil should be polished thoroughly, as described in steps 4 and 5 above.
The floor can be used with caution after 24 hours. Full cure is 3-5 days in ideal conditions.
Clean tools with Turpentine.
Please note: Do not expose the floor to water or clean it for the first 3-5 days while the oil is hardening.
COVERAGE
Spread Rate: First coat 210-270 square foot per liter. Second coat 600-1,000 square foot per liter
DOWNLOAD INSTRUCTIONS
TECHNICAL DATA
Product properties
Solid content
> 90 %
Density
0.95-0.98 g/ml
Fully hard
3-5 days at 68° F
Colors
9 Colors
Binder
Vegetable oil components
Dilution
Turpentine (does not normally need to be diluted).
Drying time
Approx. 24 hours at 68° F
Application tools
Paint Roller, 4 mm
Paint roller handle, 25mm
Telescopic rod
Disposal
Empty containers and residues to be disposed of according to local regulations.
Shelf life
3 years
Packaging
1 L + 2.5 L
Storage
+ 50-77° F. Keep out of reach of children. Must not be exposed to heat (e.g. sunlight). Store frost-free.
Is Diamond Oil the same as Diamond Oil Active?
Diamond Oil has been discontinued and has been replaced with Diamond Oil Active. The colors are the same and the sheen is the same. Diamond Oil Active has improved durability, and workability.
What types of wood can Diamond Oil Active be used on?
Diamond Oil Active can be used on any type of interior wood, including exotic woods.
How do I know what color to choose?
Different types of wood will look different when you finish it with Diamond Oil Active. The swatches we show are a representative of the outcome, but due to settings and color adjustments within individual computer monitors and hand-held devices, the color on your wood may or may not be achieved as shown in the color swatches. We recommend that you
order Color Testers
, and test it on the wood that you are going to finish to ensure you achieve the desired color you desire.
What is the difference between Master Color Oil and Diamond Oil Active?
Master Color Oil
is the original WOCA Oil and best for residential flooring, wall, ceiling and furniture applications. Diamond Oil Active contains a higher solid content, which makes it a more durable finish. It was developed for high traffic commercial and high traffic residential flooring. Both products can be used on any interior wood surface.
Do I need to apply 2 coats of Diamond Oil Active?
2 coats are usually better than 1 for durability. Softwood species like Pine, distressed, and reclaimed wood always need 2 coats, maybe 3 depending on how much oil the wood absorbs.
Can I use Diamond Oil Active on Furniture?
Diamond Oil Active can be used to finish tables and furniture.
WOCA Worktop Oil
is rated safe for use on food contact surfaces.
Douglas Fir Flooring
Diamond Oil Active - Smoke Brown
Oak Parquet Flooring
Diamond Oil Active - Extra White
Calico Hickory Wood Flooring & Bannister
Diamond Oil Active - Natural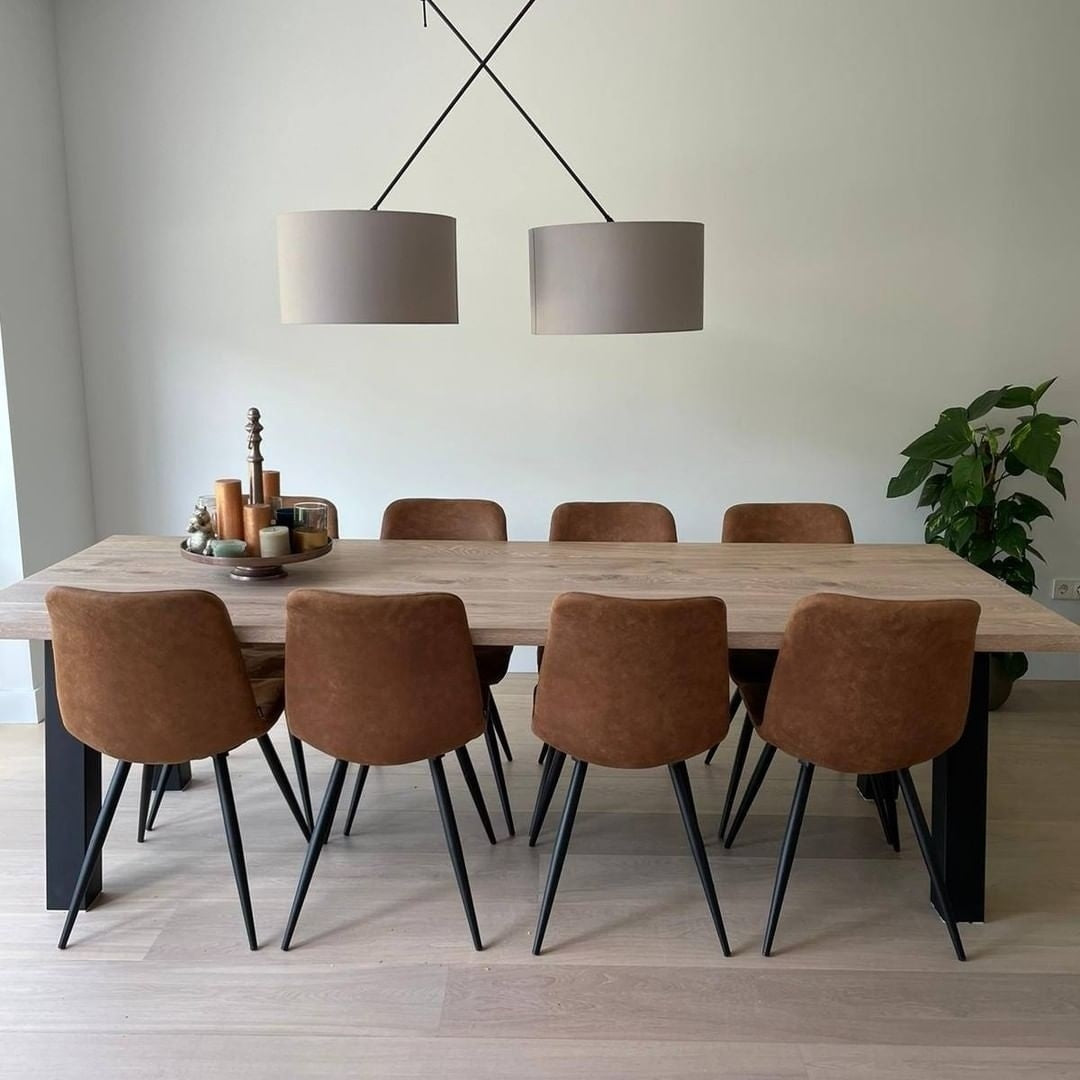 White Oak Table
Diamond Oil Active - White
Oak Wood Paneling
Diamond Oil Active - Black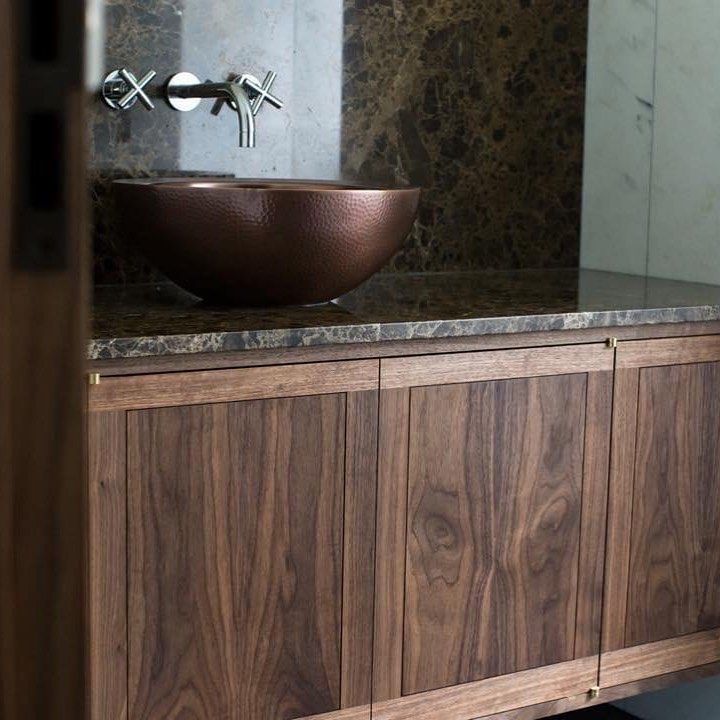 Walnut Vanity
Diamond Oil Active - Natural
Douglas Fir Flooring
Diamond Oil Active - Smoke Brown
Oak Parquet Flooring
Diamond Oil Active - Extra White
Calico Hickory Wood Flooring & Bannister
Diamond Oil Active - Natural
White Oak Table
Diamond Oil Active - White
Oak Wood Paneling
Diamond Oil Active - Black
Walnut Vanity
Diamond Oil Active - Natural