PRODUCT INFORMATION
APPLICATION INSTRUCTIONS
COVERAGE
AFTER CARE
TECHNICAL DATA
PRODUCT INFORMATION
Unlock the timeless appeal of Scandinavian design with our environmentally friendly Scandinavian Wood Floor System. This system includes our Wood Lye White and Diamond Oil Active, perfect for busy households and commercial spaces that want to create the cozy aesthetic of the Nordics. Get an easy to maintain and durable floor with our Diamond Oil Active!
Best for Pine and White Oak. Results vary.
This Scandinavian Floor System includes:
2.5 liter Wood Lye White 
2.5 liter Diamond Oil Active, Extra White or White
2.5 liter WOCA Natural Soap concentrate in White
1 Natural Soap Spray bottle in White
Diamond Oil Active Extra White contains 14% white pigment and White contains 7% white pigment.
We highly recommend first ordering a tester kit as an inexpensive way to sample on your wood to verify the outcome of your project.
Care and maintain your floor's timeless beauty and modern practicality with WOCA Natural Soap.  The gentle cleaning and conditioning will maintain the floor's luster for years to come. 
APPLICATION INSTRUCTIONS
The unfinished wood must be sanded, clean and dry before application. Recommended sanding grit range 100-150. On vertically mounted woodwork, apply from top to bottom.
Make sure wood surface is clean and dry.
Shake the Wood Lye container well and pour the lye into a plastic bucket and stir regularly during application to get a uniform finish.
Apply the lye, undiluted, with the WOCA Applicator, going with the grain. Coverage is approximately 250 square feet per 2.5 liter container.

The

l

ye

 

will not look perfect.  The polishing of the oil with the red pad will remove any imperfections during the oiling process.

 Leave the lye to dry at least 8 hours or overnight.

Stir Diamond Oil Active container well before and during use.

Technique A

, working in a section of about 50-100 sf, with a ¼ nap paint roller or trim pad apply an even coat of oil.   Wait 5-10 minutes and then using a 175 RPM floor buffer/polisher start polishing in the oil with a

RED

buffing pad attached. 

Or see Technique B
Technique B,

working in a section of about 50-100 sf, pour oil directly on floor (1 cup) and spread it around with floor polisher/buffer with

RED

pad attached.

Polish the area with a red pad until

 

wood

 

appears saturated.

Replace the buffing pad with a clean one and put a terry cloth towel or polishing cloth underneath the pad and buffer and polish off all excess oil.  No excess oil should be left on the wood surface

After 6-8 hours of pre-hardening, the floor should be treated with a second application of oil.

Still working in sections, a very small amount of oil, approx. 1-2 ounces, is poured on the

floor

and carefully polished into the

 

wood

 

with a

WHITE

  floor pad. Repeat until done.

Repeat Step 10.  No excess oil should be left on the surface.

Do not expose

 floor

 to water during cure/hardening time, approx. 5 days.

After 5-7 days, clean with WOCA Natural Soap in White to provide additional protection.
Tip: For fastest drying time, leave windows slightly open to ensure a steady flow of fresh oxygen.
COVERAGE
Wood Lye and Diamond Oil Active Coverage Rates
2.5 liter Wood Lye White= 250 sf (you only need 1 coat)
2.5 liter Diamond Oil Active, White or Extra White= 350-450 sf (2 coats)
For example:
500 sf- 2 Wood Lye, 2 Diamond Oil Active
1000 sf- 4 Wood Lye, 3 Diamond Oil Active
1500 sf- 6 Wood Lye, 4 Diamond Oil Active
2000 sf- 8 Wood Lye, 5 Diamond Oil Active
2500 sf- 10 Wood Lye, 6 Diamond Oil Active
TECHNICAL DATA
Product properties
Solid content
> 90 %
Density
0.95-0.98 g/ml
Fully hard
3-5 days at 68° F
Colors
9 Colors
Binder
Vegetable oil components
Dilution
Turpentine (does not normally need to be diluted).
Drying time
Approx. 24 hours at 68° F
Application tools
Paint Roller, 4 mm
Paint roller handle, 25mm
Telescopic rod
Disposal
Empty containers and residues to be disposed of according to local regulations.
Shelf life
3 years
Packaging
1 L + 2.5 L
Storage
+ 50-77° F. Keep out of reach of children. Must not be exposed to heat (e.g. sunlight). Store frost-free.
What is the difference between Master Color Oil and Diamond Oil Active?
Both Master Color Oil and Diamond Oil Active are penetrating oils. They are both made with the highest quality of natural ingredients. Master Color Oil is intended for use for normal wear and tear in residential use. Diamond Oil Active is extremely durable and is most often used in high traffic, or commercial applications.
How do I know what color to choose?
The color swatches displayed are meant to give you a basic idea of the finished product, but because of settings and color adjustments on individual computer monitors and hand-held devices, and different reactions from various woods, the color on your wood may or may not be achieved exactly as shown in the color swatches. We recommend that you use a color tester on the wood that you are going to finish in an inconspicuous area to ensure that you achieve your desired end result. Our testers include FREE GROUND SHIPPING in the Greater United States.
Is staining needed with WOCA Color Oil?
No staining is needed with WOCA Color Oil, as the color and finish is done in one step.
Oak Flooring
Master Color Oil - Brazil Brown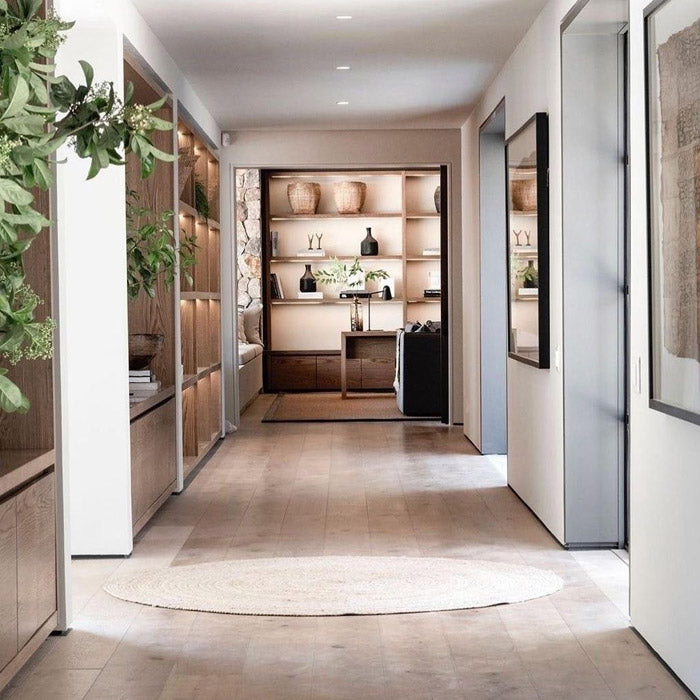 Oak Flooring
Master Color Castle Gray
Oak Flooring
Master Color Oil - Extra Gray
Douglas Fir Flooring
Wood Lye White & Master Color Oil Extra White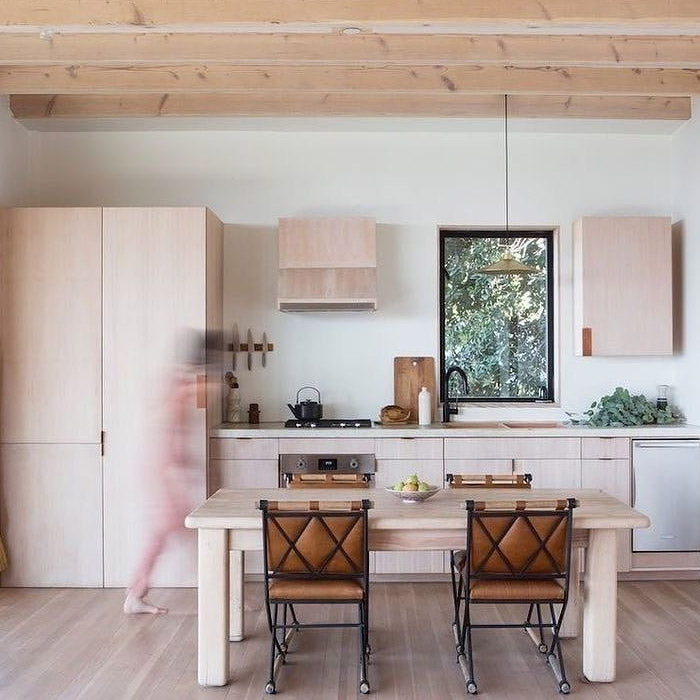 Douglas Fir Cabinetry
Master Color Oil - White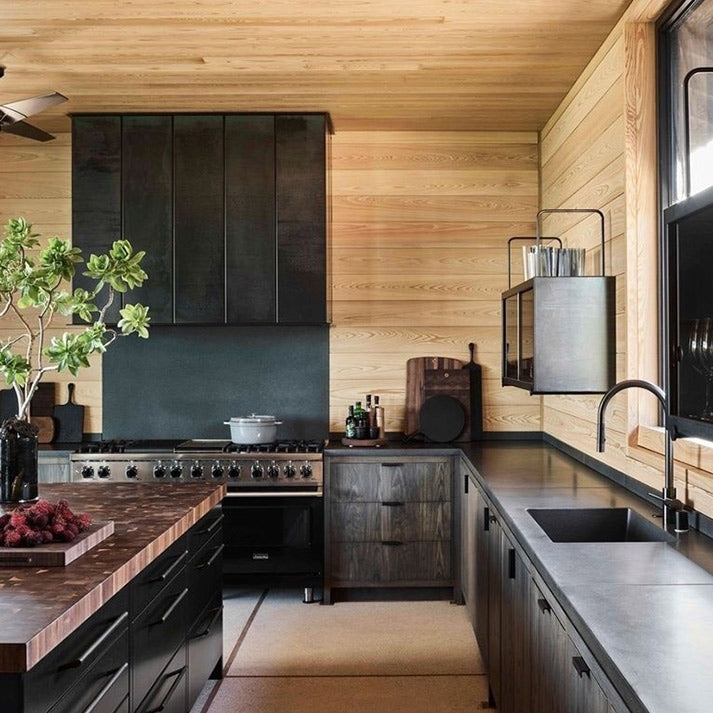 Ash Cabinetry
Master Color Oil Black
Oak Flooring
Master Color Oil - Brazil Brown
Oak Flooring
Master Color Castle Gray
Oak Flooring
Master Color Oil - Extra Gray
Douglas Fir Flooring
Wood Lye White & Master Color Oil Extra White
Douglas Fir Cabinetry
Master Color Oil - White
Ash Cabinetry
Master Color Oil Black