10+ Tips for Spring Cleaning the Patio
Posted by WOCA WOODCARE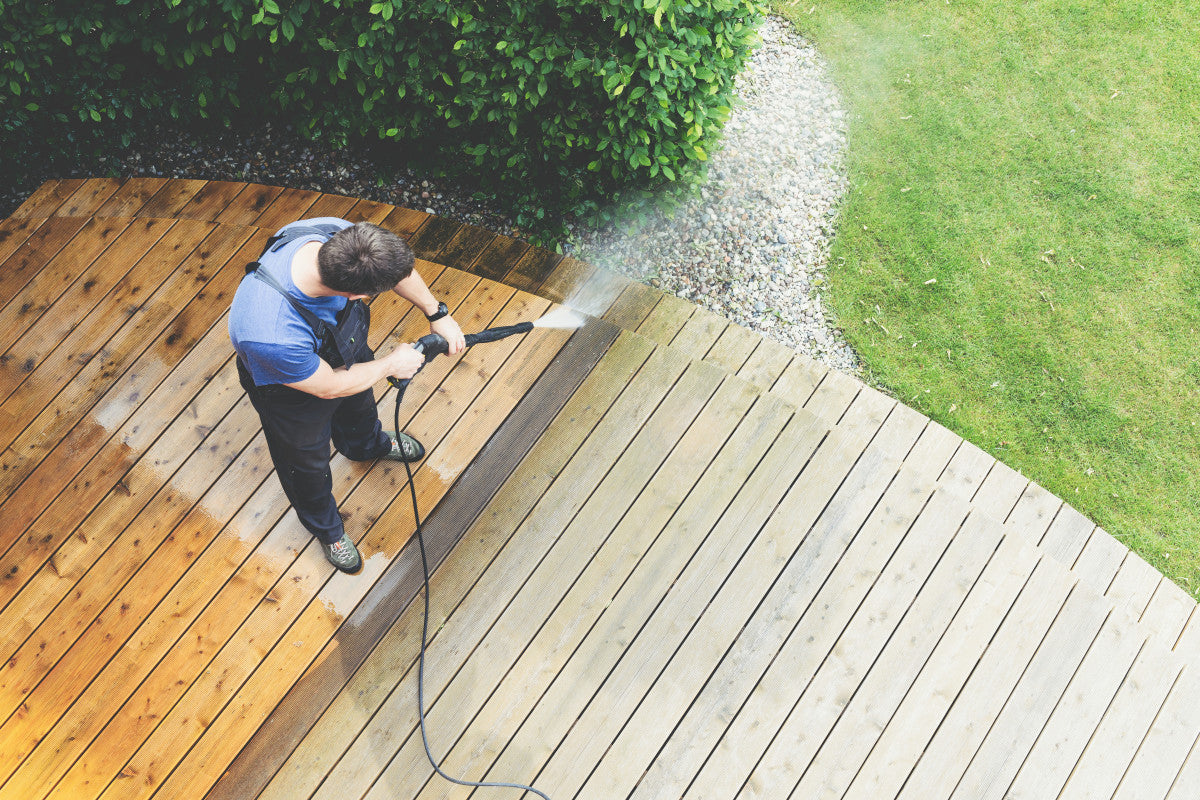 Spring is in the air and is (hopefully) here to stay. If you've found ways to step up your spring-cleaning this year, chances are your patio is on the list. While it may seem like a big task to check off your list, all the resting and relaxing you'll get to enjoy in the months to come will be entirely worth it. 
Here, we're sharing our best tips for exterior hardwood care, so you can spring-clean your patio and outdoor wood furniture.
Clean everything separately
First thing's first: you want to clear off your entire patio, so you can start with a clean slate. That way, you don't have to clean around your furniture and end up missing some spots. For bigger items like grills and tables, simply set them off to the side and clean them there. For smaller pieces like chairs and end tables, wash them separately (like in the driveway), so you avoid placing dirty furniture back onto your freshly cleaned patio or deck.
Tackle lingering mildew
Mildew left behind by wetter seasons can put a damper on your outdoor space. Using WOCA's Exterior Cleaner, you can safely remove dirt, mold, and mildew from:
Wooden decks
Concrete slabs
Railings
Sidewalks
Brick and stone pavers
Siding
Outdoor tile
Outdoor furniture
Pro tip: For larger surface areas, use a floor machine to apply the cleaner. 
Refresh your wooden deck
Sometimes wooden decks need more than just a cleaning. That's where WOCA Exterior Wood Oil comes in. With it, you can easily revive and refresh your patio while strengthening and protecting it at the same time. Not to mention, there are 14 colors to choose from to achieve the exact look you want for your outdoor haven. 
Applying the wood oil only takes a few steps:
Remember the Exterior Cleaner? It comes in handy here, too! You'll apply this first before the penetrating wood oil. Just let it dry for 24 hours before moving on to the next step.
Sand down any rough patches of wood.
Apply WOCA Exterior Wood Oil with an oil applicator, brush, or paint roller. Make sure you do this on a dry day when it's above 55 degrees.
If the wood doesn't appear to be saturated with oil, apply another layer.
Wipe off any excess oil with clean cotton cloths after no more than 5 minutes.
Wait 48 hours for the wood to harden thoroughly. Avoid exposing your deck to water during this time.
Pro tip: Not sure which color to choose? Order WOCA Exterior Oil Testers to try them out ahead of time!
Clean your patio furniture
While you're waiting for your newly oiled deck to dry, it's a great time to tackle your patio furniture! Whether you have furniture that's wooden, metal, or rattan, you can also use Exterior Multi Cleaner Spray to clean the bases and frames of your furniture. Don't forget to remove any cushion or furniture covers and throw them in the washer, so they're ready for lots of sitting and relaxing.
Pro tip: If you have outdoor wooden furniture that needs some extra TLC, follow our guide to refinishing weathered wood.
Invest in protective products
Lots of sun and harsh UV rays can take a toll on your patio, especially wooden surfaces and furniture. Invest in extra protective products and gear like:
WOCA Exterior Wood Oil (which protects wood surfaces from UV rays)
Furniture covers (use these anytime you're not using your furniture)
Umbrellas
Patio covers and shades
Curtains
Screen doors
Pergolas
Another great way to protect your outdoor furniture? WOCA Exterior Multi Protector. It's a ready-mixed solution that protects and rejuvenates virtually any type of outdoor furniture, including rattan, wood, steel, plastic, and more. 
Don't wait — start now
We know, deep-cleaning your patio may seem like a big undertaking, one that's easy to put off until later. Our advice? Do your spring cleaning now! That way, you don't have to clean your patio in the hot weather; you'll be able to actually sit back and enjoy it!
Get your patio ready for any season with WOCA Woodcare
Enjoying your patio and outdoor living spaces is one of the most rewarding experiences during the warmer months. That's why you should put as much time and care into it as you would inside your home. With WOCA Woodcare, you can feel good knowing that our outdoor wood care and cleaning products are just as safe and effective as our indoor ones. All plant-based, environmentally friendly, and safe to use around the family, WOCA Woodcare is the go-to solution for all your needs — year-round.
Explore our outdoor collection to get your patio summer-ready!
Title for image